March 12, 2015 / Pamela Fay
The best part of cooking wild game is remembering the story behind the harvest. Dinner conversation about a hunt is much more exciting than conversation about a trip to the grocery store for some meat! After the kill we clean the meat and allow it to drain, usually in a cooler with ice on top of the meat. Next we wrap the meat multiple times with parchment paper, note the date of the harvest, and store it in the freezer.
You can read about this particular hunt by clicking here to get a feel of what our dogs and David went through for this Field to Feast! We also included a couple pictures of the skull mount for this monster boar! Take note of the jaw and the fact that teeth were missing due to his age, simply amazing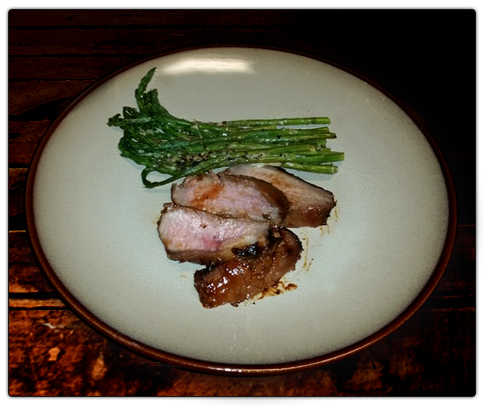 1
Parmesan Garlic Mini Asparagus
GRILLED PORK LOIN
Ingredients:
Pork Loin
1 cup Game Tame marinade
2 tsp Tiger Seasoning
1/2 tsp Cayenne Pepper
1/2 tsp Black Pepper
2 cups BBQ Sauce (we suggest Montgomery Inn BBQ Sauce from Cinncinati, OH)
Defrost and clean the pork loin. Fill a sealable bag with Game Tame marinade, add the pork loin, then set in fridge for 4-5 hours. Prior to cooking add tiger seasoning, cayenne pepper, and black pepper to both sides. Using a brush, add a small amount of BBQ sauce to both sides and allow loin to get to room temperature prior to grilling.
After grill has reached a temperature of 450 degrees at pork loin to the top rack. After approximately 10 minutes turn it over and allow the internal temperature to reach a safe 140 degrees F.
Once internal temperature has been reached remove loin and set it on a sheet of tin foil. Quickly add more BBQ sauce and seal the foil for a few minutes prior to serving.
SIDE DISH:
For this particular dinner we kept it simple with a side dish of asparagus. Just about anything will go with the perfect pork loin!
Parmesan Garlic Mini Asparagus
Ingredients:
Mini asparagus
1/2 cup freshly grated parmesan cheese
2 cloves of garlic
2 tsp coarse ground pepper
1 tsp sea salt
1 tbs olive oil
In a small dish mix garlic, pepper, sea salt, parmesan cheese, and oil. Lay out a sheet of tin foil and set the asparagus out in a row. Using a brush, coat the asparagus with the oil mixture. Close the tin foil and set on the grill for 10-12 minutes. Remove from grill and it will be ready to serve!
ENJOY!!!